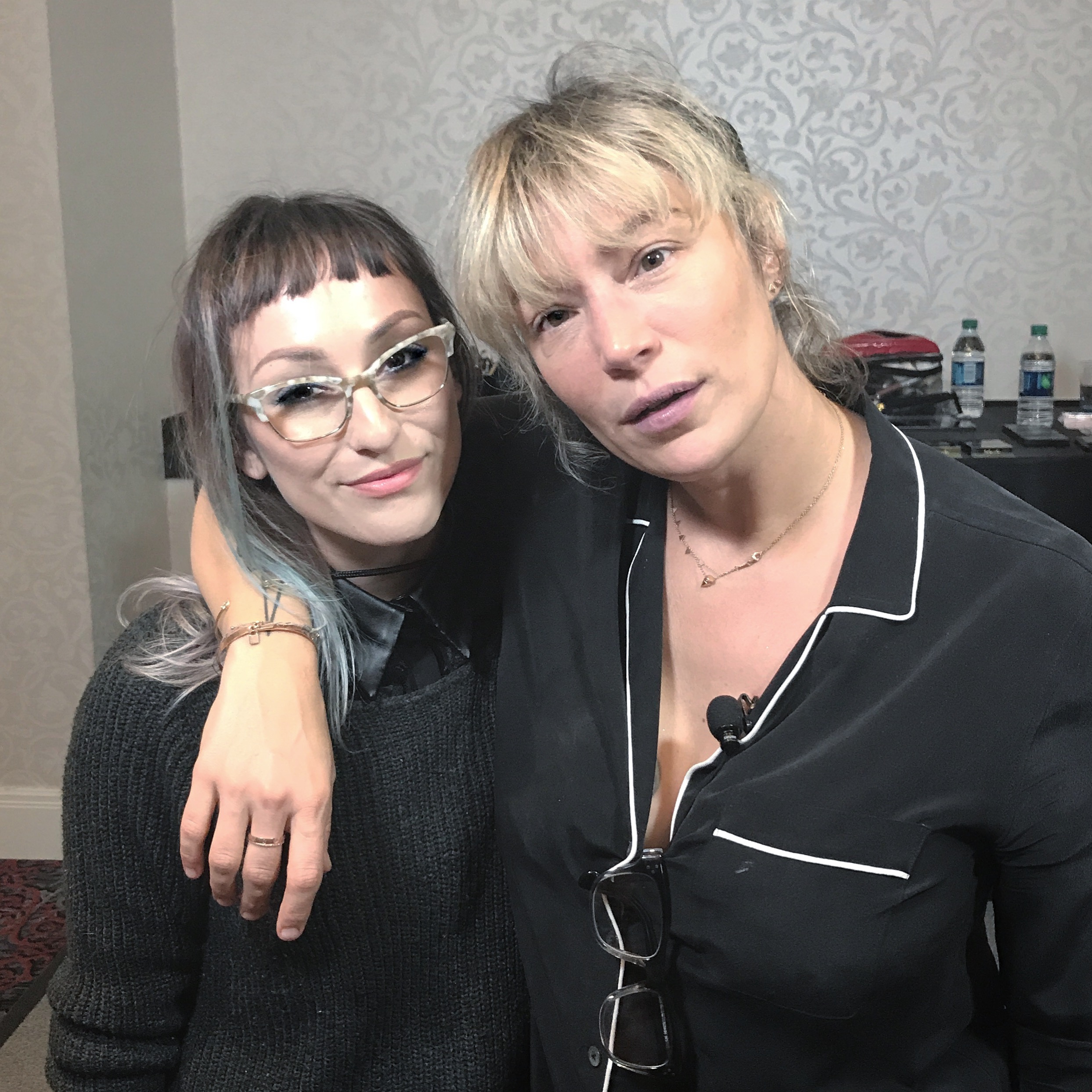 I made a, somewhat spontaneous, decision to go one year with little to no makeup. 2019 is that year. The idea came from meeting professional, celebrity makeup artist, Mélanie Inglessis at an industry event in Portland two years ago. Maybe not so spontaneous, after all. The idea has been marinating since then, through all of my skin issues, but I pulled the trigger rather spontaneously. Melanie is a Parisian makeup artist and has never worn a stitch of makeup. And she was radiant, confident and her talent was evident, all with a fresh face. She lead a workshop on red carpet, skin-focused beauty
Through four posts, over the course of 2019, I will track my journey and any revelations over this year, with photos - even if they are hard to share. Now is the time to make sure you're signed up for my newsletter so you don't miss out! I also post more frequent photos/check-ins on my Instagram stories (@mgndvn), so be sure to keep an eye on those as well. Note: This feels like the most self-absorbed venture I could begin. The intent is to help others though. Bare with me.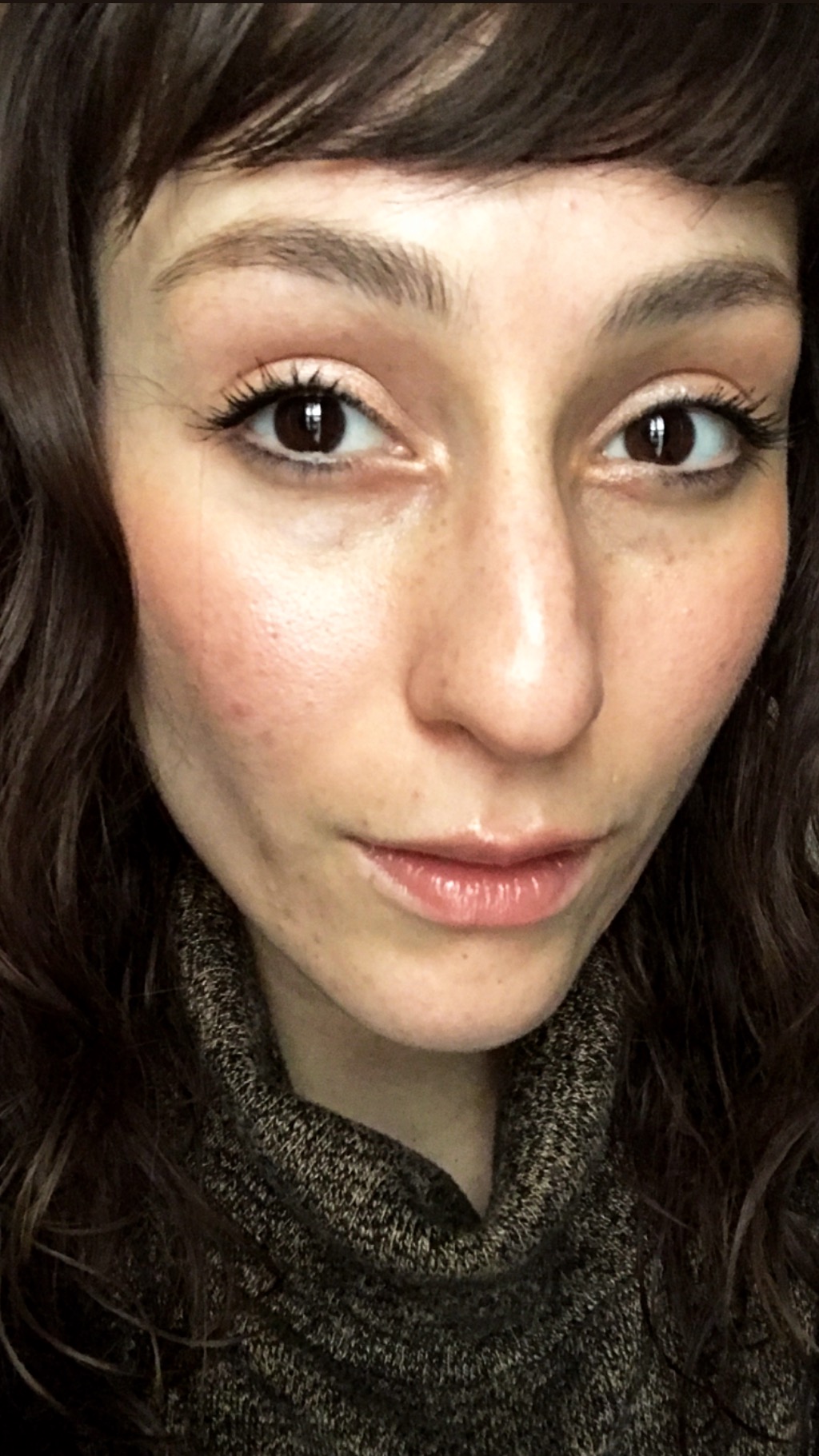 I made peace with letting myself use brow gel, mascara, blush, and sometimes a red lip. I consider this still going sans makeup, because I am coming from a place of wearing full foundation, powder and the works. So these few products make me feel like my skin is still breathing and I am not hiding. I feel confident, excited and -with the unpredictability of my skin - a bit afraid of what this year holds.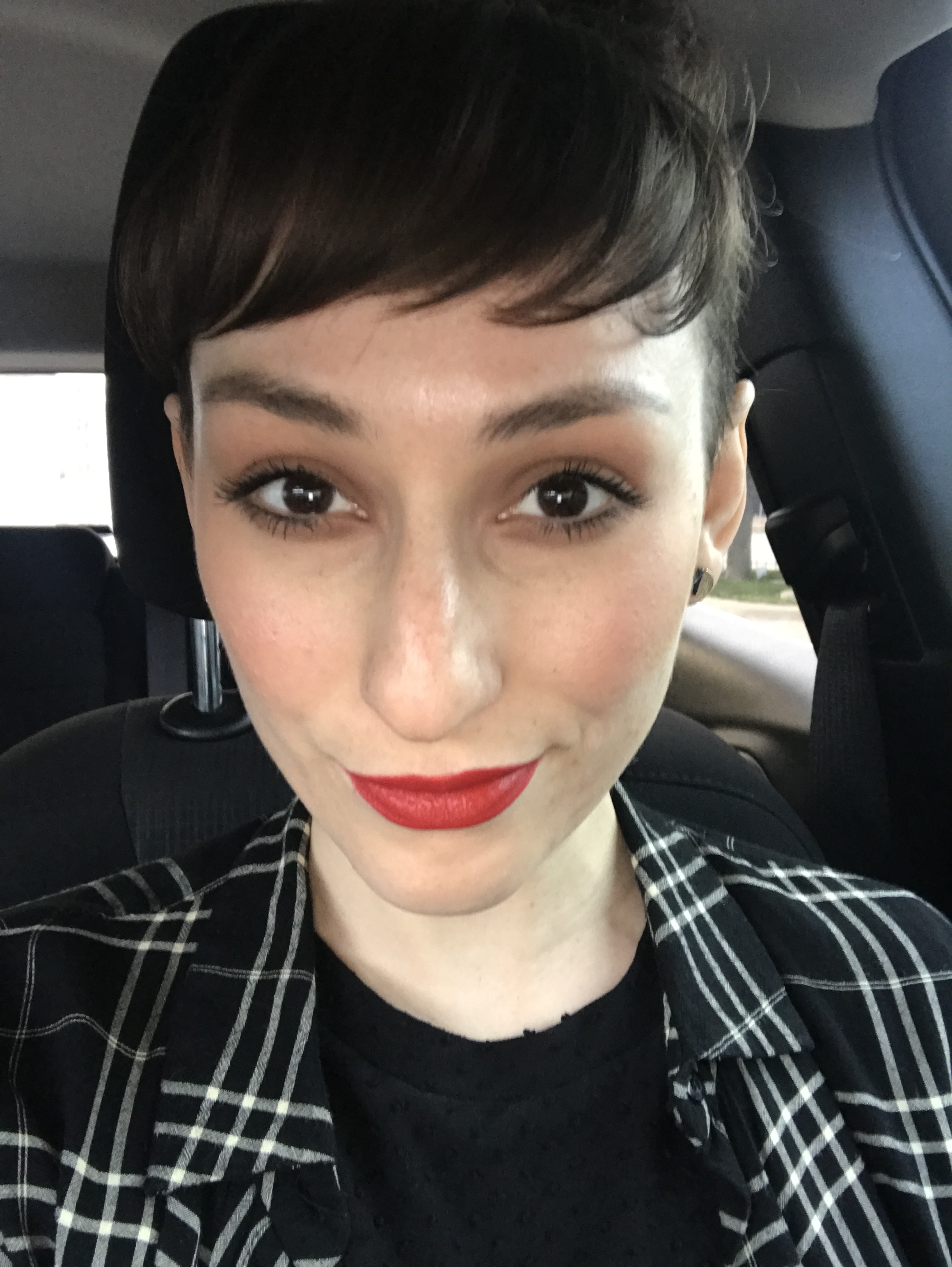 I have worn a full face of makeup 3 times, and partial makeup a handful of times. This day was full makeup. I feel like I am cheating. By partial, I mean, covering up fresh breakouts on my cheeks with light foundation and adding a touch of blush. The days I chose to wear full makeup included events or jobs and being in environments that I didn't feel comfortable letting my blemishes show. I have felt a difference in myself between the varied levels of makeup that I wear. Most of the time, I enter a room with more confidence knowing that I have hidden the redness and bumps. Although, there have been days when I feel the same confidence when I have the slightest touch of blush and feel as if my skin looks as healthy as it feels.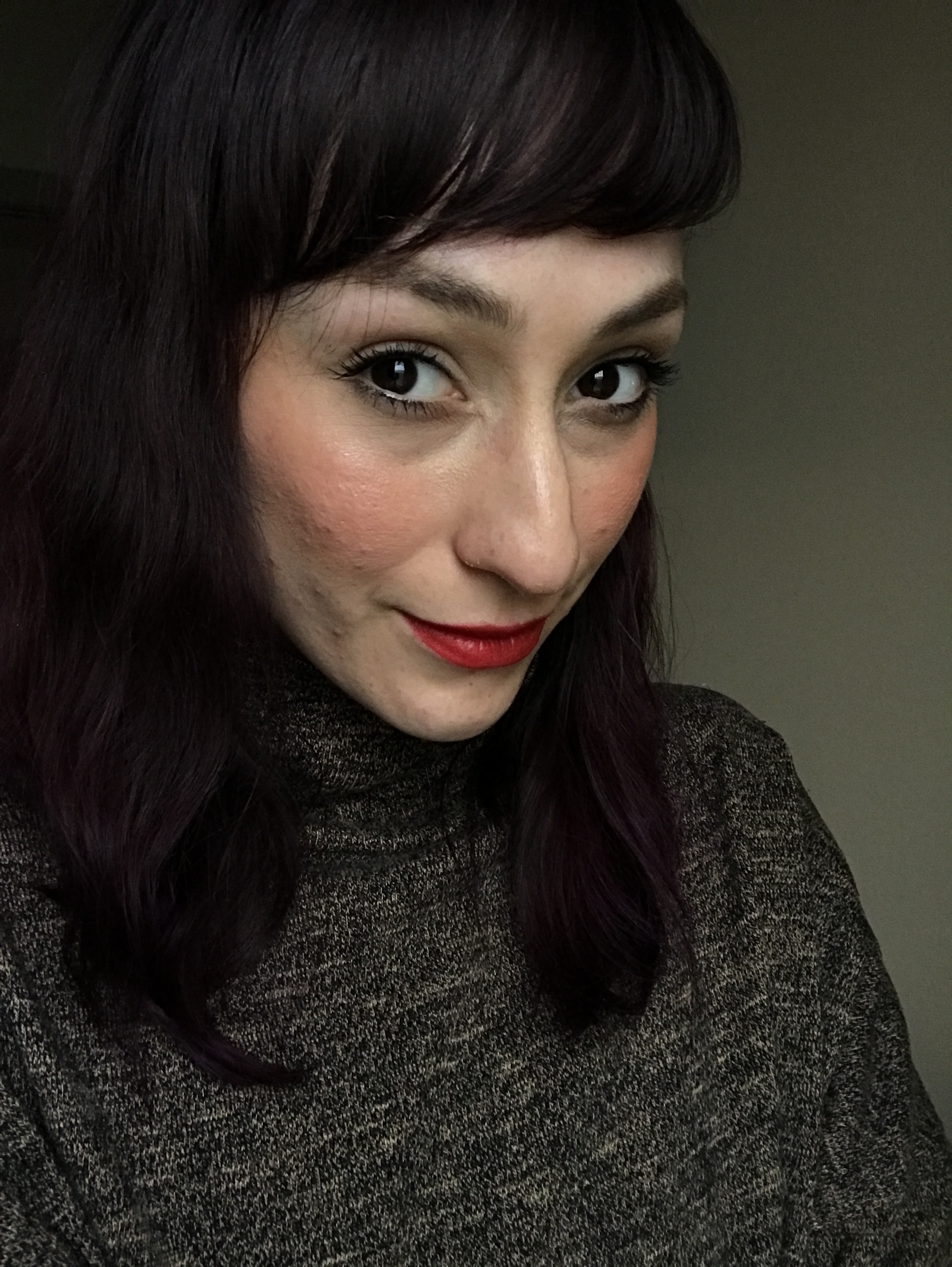 I had to wear full makeup. My skin was so irritated, the texture is... unfortunate. This year of no makeup is hard. I feel bad about myself in a way that styling my hair, wearing my favorite turtleneck, AND a full face of makeup can't fix. I can't even find good lighting to wash out the texture, in an effort to boost my confidence through a photo. I'm fed up with this acne. Not pictured, is the double fever blister on the left side of my mouth that I tried to hide with lipstick. Nothing kills confidence like a fever blister staring people in the face
I have a pretty strong feeling the blemish flare ups are related to my dairy intake, so I have eliminated that almost entirely from my diet. This breakout was the tipping point. Despite how much I enjoy it all cheese, cream and milk-based anything is not allowed in my body. We'll see how this goes.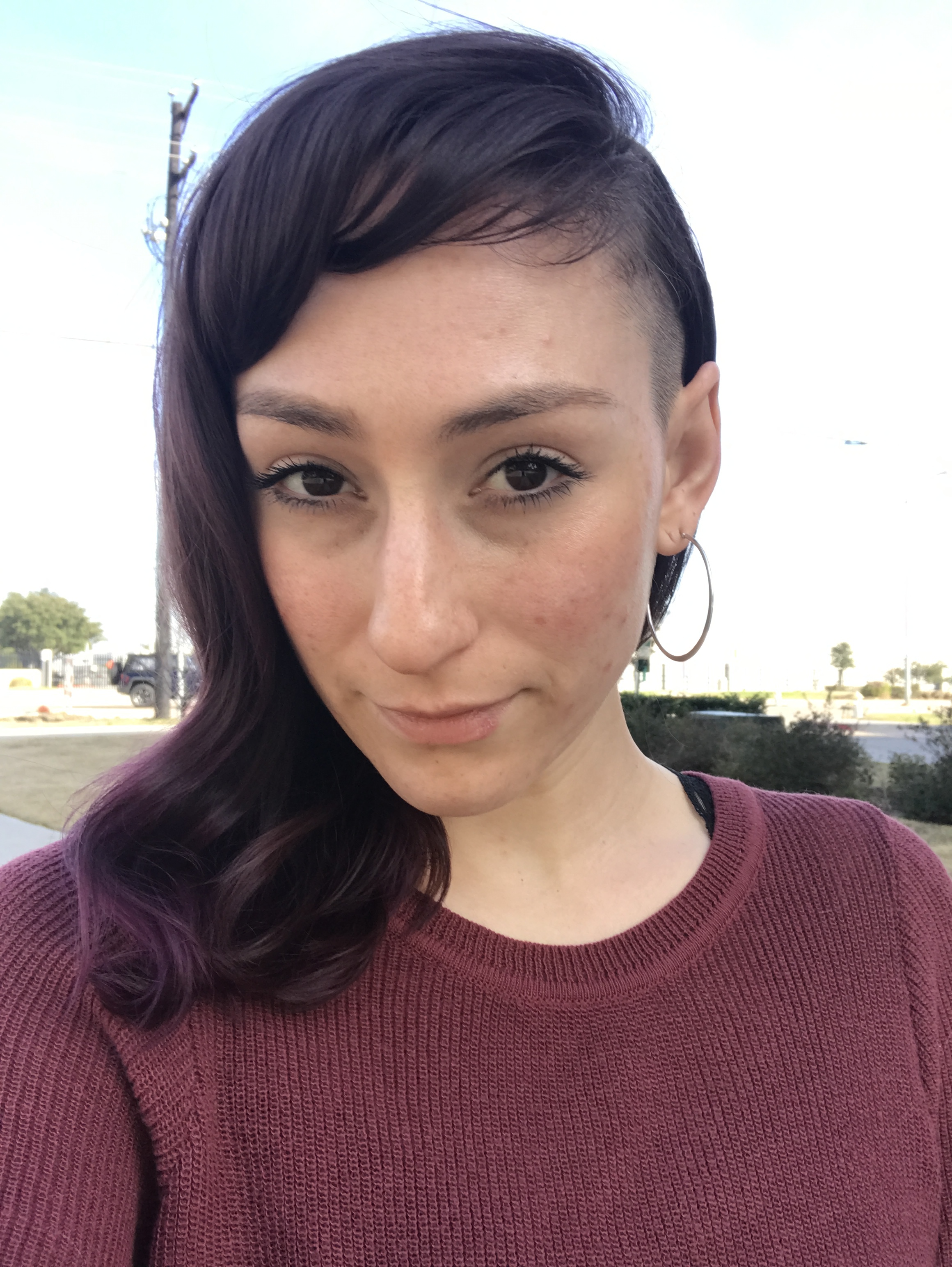 My skin was in the same condition as Day 49, but the light was bouncing off of my apartment building just right, I had just moisturized and my hair was doing a new thing. ✨ So this photo made me feel good. Gotta take those boosts where I can get them on this no-makeup journey. Confession: I wore full makeup this evening for an event.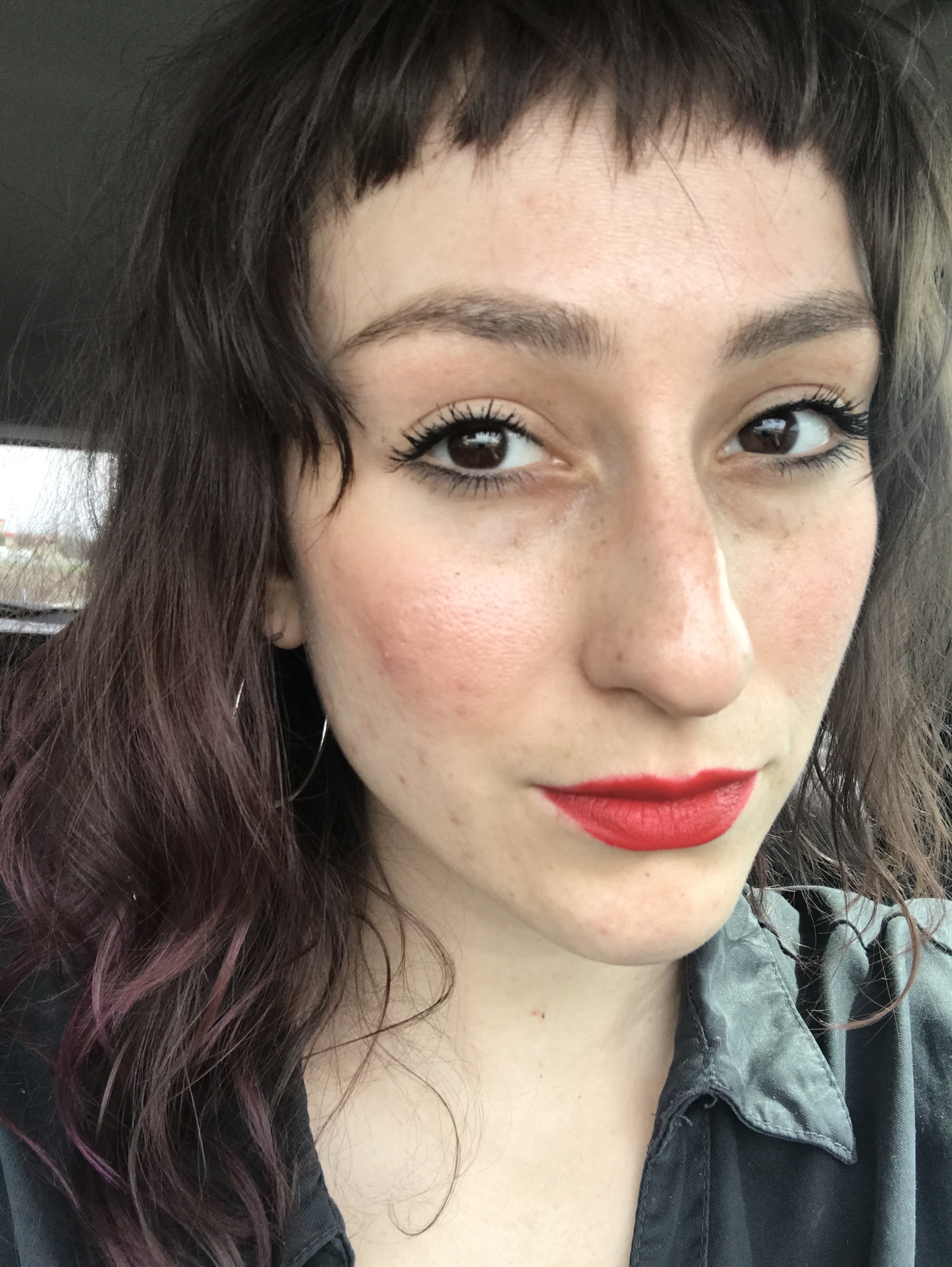 New haircut. New breakout. I have nearly had NO dairy, and I don't miss it much. But I still have some fresh blemishes. I held out and still applied minimal product, as a sort of stick-it-to-the-insecurity rebellion, but I definitely don't feel like I'm winning. I blame this flare up on the fact that I traveled for work, without my normal cleanser, left at the mercy of hotel "facial bar" soap. The only thing scarier than that is St. Ives apricot scrub. *EEK!* I haven't felt as good as I did on Day 1 of this self-procured journey. I still look back at the photo from that day... the face that launched one thousand ships! Gonna go drink all the water I can find.........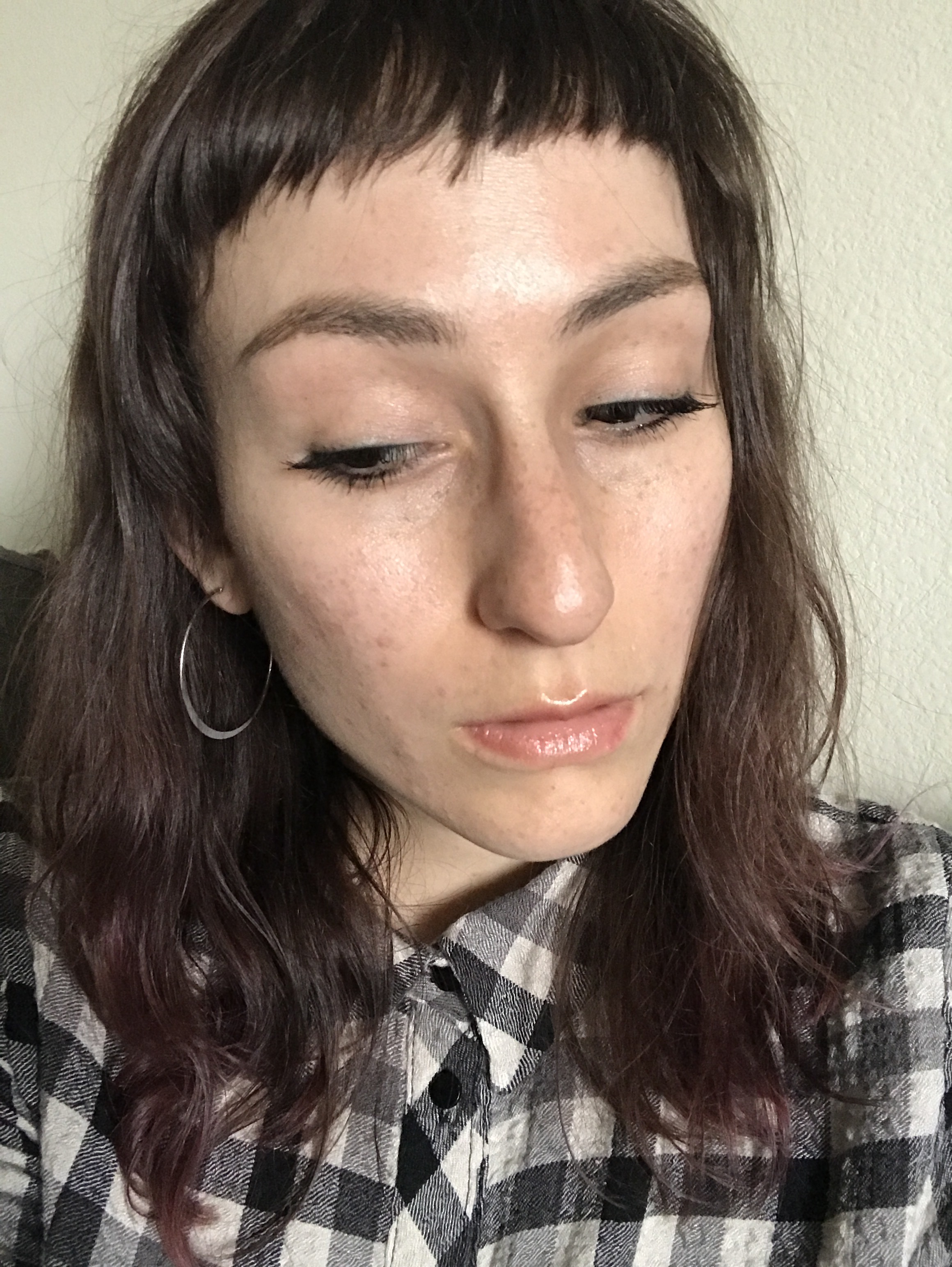 This morning Bryson and I visited a new church, so I already felt uncomfortable and like I was headed face-first into an unknown, unpredictable environment. I wore more makeup than normal (my new normal) all week, and today was no exception. I still feel insecure showing up to jobs and social events without hiding my breakouts. That struggle is real. I have hidden the inflammation, redness, and all around frustration under makeup for so long I have convinced myself that I owe other people that courtesy. Which is a lie perpetuated out of fear of what? Rejection, maybe? After church and lunch, this day, I returned home and removed the foundation and actually felt better than before I applied it all that morning. I even felt a little silly for covering up to begin with. The lip moisturizer helped. Why does a touch of shine there boost a look?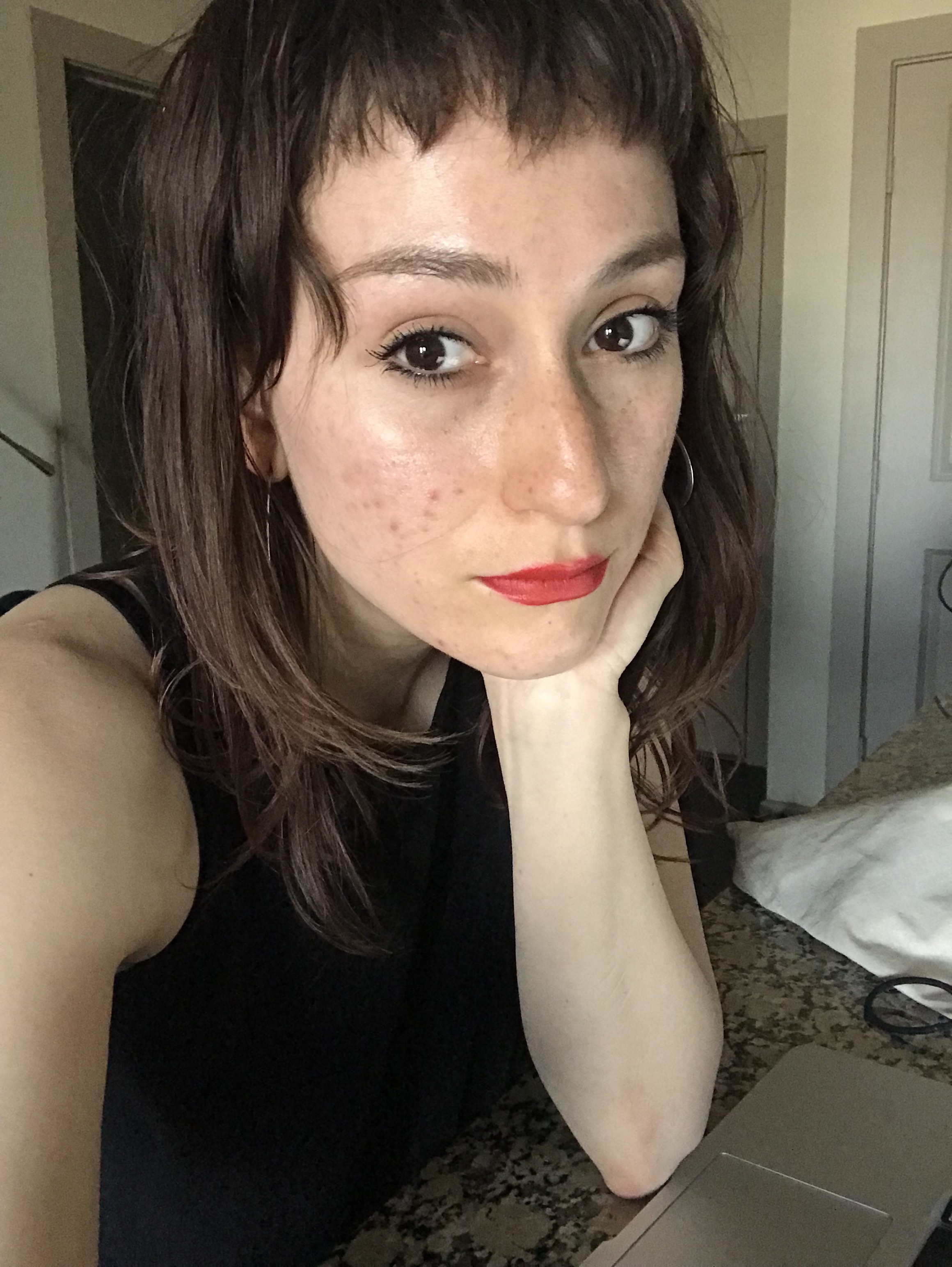 I remember feeling particularly good about myself this day. Then I saw this photo and my confidence went way down. However, as I am posting this 10 days later, I feel good about the overall appearance of my skin. There are a couple of red scars, but I feel like they're so small in comparison to how great the rest of my face looks. This shows me that I may not be giving my body enough credit for its ability to heal and thrive. The health of my skin has come a long way... and I'd like to take this moment to shout out my good friend, Kris Astroff, who has poured effort, love, research and great amounts of time in helping me tackle this. I struggled for a v long time before she jumped in, and I was not doing it well with out her. Y'all be sure to follow her (@kristalksskin) on IG for the most helpful skin tips on the internet, in regard to aging, sun protection, and really anything skin-related. She also posts #TuesdayTalks that focus on a specific topic or ingredient. So informative!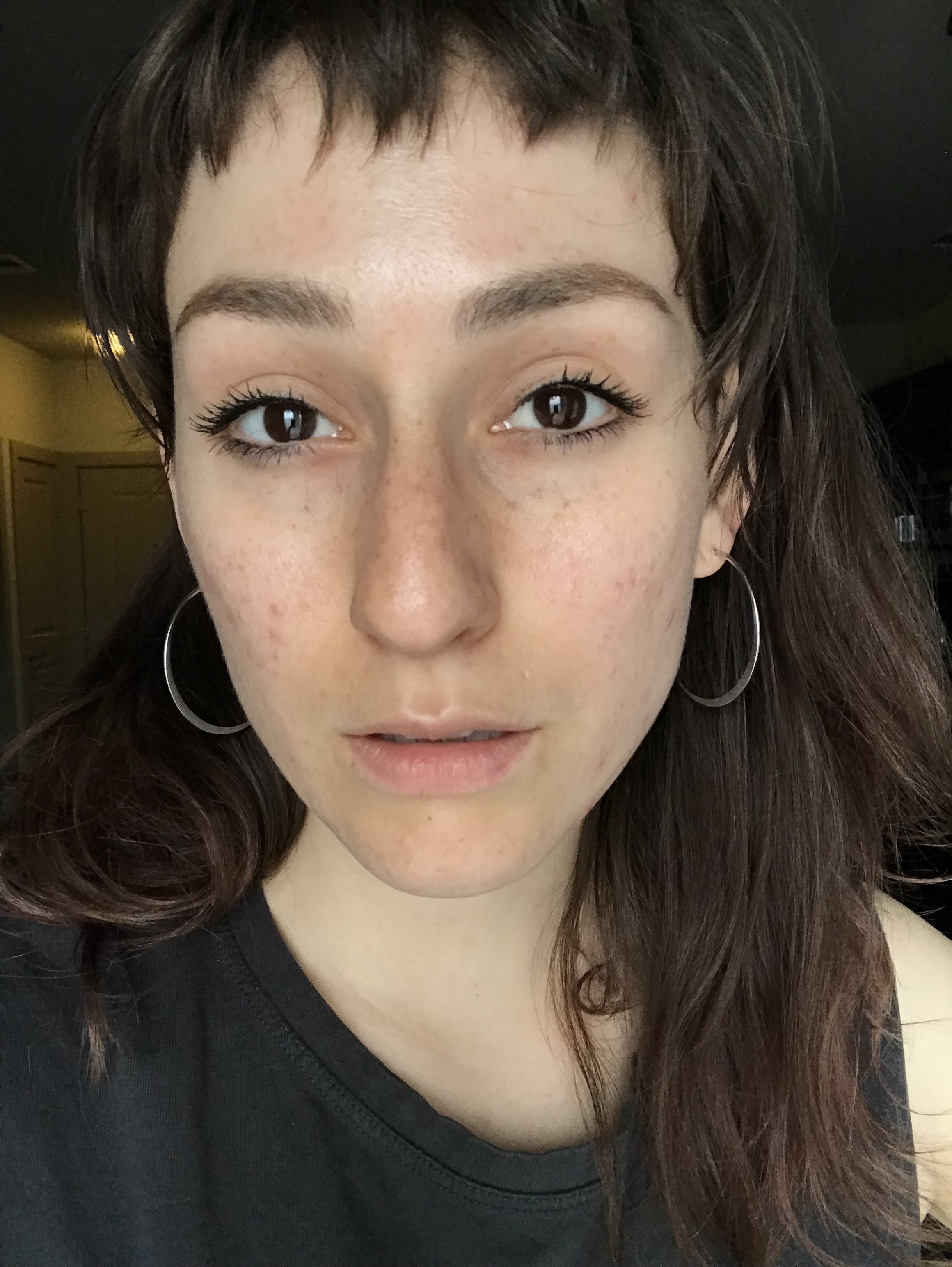 Proof that hoop earrings make us prettier! I truly have worn the silver off of these since downshifting on makeup. Earrings, making sure my hair is styled, and being intentional with my wardrobe choices have made all of the difference in this Year of No Makeup journey. It's pretty interesting. I notice the difference in how I feel depending on the jobs that I'm working, since my wardrobe varies from client to client. I feel least confident on long term productions, like movies or commercials, because often times I am surrounded by a bunch of dudes. My set uniform is a band tee, with or without a flannel/hoodie, and sneakers. I probably have my hair pulled off my neck. It's just not a "cute" look. This day was not one of those days, though And I felt pretty good once I brushed out my hair and put on those magical silver hoops.
Many people have found it interesting that a makeup artist would choose to go makeup-free. I have several thoughts on this. One is that I have been on a long road of skin problems as an adult, and I haven't been happy with myself because of them. First and foremost, this Year of No Makeup challenge for myself has been just that - for me. Secondly, makeup is not good for our skin! My face was never given a chance to heal because I was congesting the pores and it wasn't able to breath under the layers. Not to mention I am oily/combination. So even with no makeup, my pores are struggling to stay clear. Add in the creams, liquids, powders, more creams, mica + shimmering highlights... no wonder my skin was so aggravated! In addition, the foundation of my makeup beliefs is great skin. If my client doesn't have great skin (read: if my prep and treatment isn't executed well according to the state of their skin) the rest of the makeup won't look great. I realize I have a bit of an alternative way of thinking about makeup. Many people may not agree with me, however, I hope my Year of No Makeup inspires you to slow down, lighten up and love yourself a little more. After all, can we really love others if we don't love ourselves?
My next update will be released at the end of Q2. Until then, let me know in the comments how you feel with no makeup, or why you love makeup! I'm here for a conversation.
xx
Meagan